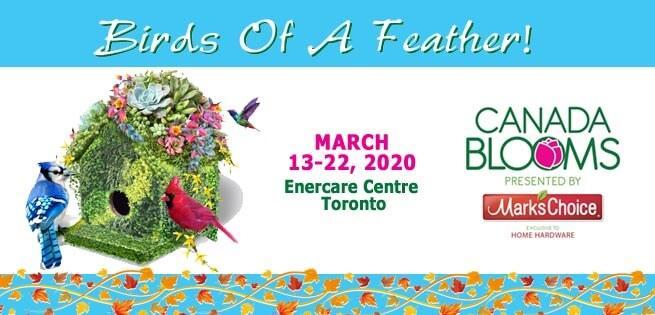 Canada Blooms Named Top 10
Mark Your Calendars!
Canada Blooms, Canada's Largest Flower and Garden Festival
will once again co-locate with the National Home Show in 2020

What's New For 2020?
• Tiny Homes & Gardens Village
• The Unilock Celebrity Stage is moving to the Garden Marketplace
• Outdoor Do-It-Yourself Centre
• Canada Blooms still falls on March Break

2020 is packed with extra value:
Discover over 25 stunning landscaped gardens including Oaks Landscape Products Small Space Front and Back Steps, the magnificent floral displays of Ontario's top floral artists, over 100 seminars, workshops and demonstrations by Canada's top educators and green-thumb shopping in Garden Marketplace.

Explore the Toronto Flower Show, the country's largest standard judged floral and horticultural competition and show. Not only will you see innovative designs and horticulture entries from local talent, the Toronto Flower Show hosts a floral showcase of top designers from around the globe. Many members of the Toronto Garden Club often showcase their knowledge and creativity by entering several different categories.

What better way to welcome spring to the city than to spend it at Canada Blooms!

Enjoy 2 world class events for the price of 1! With your admission into Canada Blooms you can enjoy the National Home Show at no extra cost. And best of all the Group Tour Rate will again remain the same as last year (save $6 off the regular adult admission)!
---
The 2020 Theme Is Birds Of A Feather

Every year, thousands of people flock to Canada Blooms to experience the lush gardens and beautiful floral designs and this year designers can spread their wings and get creative with their creations.

The theme 'Birds of a Feather' gives Canada Blooms garden designers, builders, floral artists, competitors and presenters an opportunity to explore imagery incorporating birds, feathers, bird baths and more. Alternatively, designers can choose to interpret 'Birds of a Feather' figuratively and focus on similarities of people, plants and insects. Birds, gardens and gardeners are all part of a healthy ecosystem and Canada Blooms is committed to sharing the positive benefits of gardens with visitors to the Festival.
---
Special Tour Features
A Special Bus Tour Lounge* for your guests to:
• receive last minute instructions before starting
their visit to Canada Blooms
• enjoy lunch in a quiet place away from the crowds
• have a place to meet up if they are lost or meeting
friends

The lounge provides Bus Tour Groups with their own quick and easy entrance for allowing them to bypass the line ups at the main entrance.

Also onsite parking for Tour Buses is FREE! Canada Blooms is pleased to confirm that Group rates will once again receive a $6 discount price -- $14 per person -- (min. 20, advanced sales) Each guest will receive a complimentary Festival Guide upon entry to the event. Take advantage of the Group Tour listing on the Canada Blooms website.

Post your tour organization, contact phone and/or email to fill any additional seats for your Group Visit. Please note: the list is renewed each year so if you are not listed contact us to be added. Also remember to include the city location(s) of pickup.
---
Ticket Information

2 world class events for 1 admission

Bus Group Tickets:
Advanced Sales $14 (min. 20 guests
save $6 off regular admission)

Admission at $20 Adult/$17 Senior-Student
the Door (Children 12 and Under – FREE)

Festival Hours:
Monday - Wednesday 10am to 8pm
Thursday - Saturday 10am to 9pm
Sunday, Mar 15th 10am to 6pm
Sunday, Mar 22nd 10am to 5pm

Download a Tour Group Info Package or Order Form.

For more information:
email tickets@canadablooms.com, (please type Group Tours in the subject line) or call 416-447-8655 ext 7721.
---
Promotional Opportunities
Reach your target audience at Canada Blooms through a number of promotional opportunities.

• Sponsor and Brand the Bus Tour Lounge
• Include Promotional Items in Group Goodie Bags
• Place an ad in our Show Guide

Contact us today at info@canadablooms.com, to see how we can create a package to meet your goals.
---
Revisit Canada Blooms 2019
---
Blooms is proud to be recognized as:


A Top 100 Events in Ontario by Festival & Events Ontario
A Top North American 100 by The American Bus Assoc.
A Garden Tourism Festival of the Year
A Top 5 Consumer Event in Toronto
A Top 20 Event/Festival in Toronto
and recently A Top 10 Conference/Show in Toronto by Biz Bash Magazine