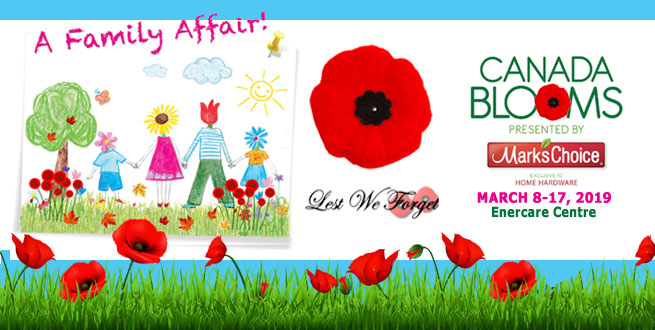 Canada Blooms 2019 Feature Garden Profile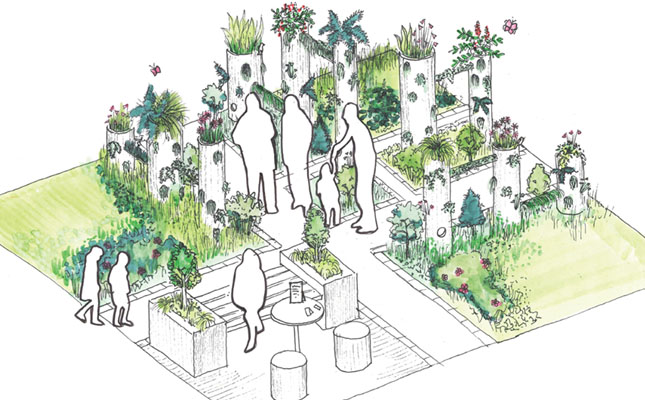 CLIFF CITY by Ecoman
You want nature, but you don't live next to a ravine. High park is a bit too west, and Rouge park a bit too east. You work downtown, so you live nearby with a small family in a condo that barely has a balcony.

There's no question that green spaces have environmental benefits. They are associated with improved air quality, relief from extreme heat, and mitigate the negative impacts of heavy rainfall events. But not everyone has the space to do their part in advocating for green goodness on private property.

According to Green Sights Report, 95% of people agree that green spaces are an integral part of our identity, and a variety of health reports suggest that the presence of green space is associated with improved way of life.

How can we do more with urban environments that are unfit for green space?
Come see our display at Canada Blooms and see how we are challenging our view of cities and putting the green in concrete jungle. Using the local escarpment cliff ecosystem as a reference, Ecoman envisions a future where condo dwelling families can be part of the natural city.
Toronto Flower Show Happenings
Plants are being groomed, entries are being planned, and international exhibitors are thinking about their trip to Toronto for the Toronto Flower Show at Canada Blooms in March, 2019. There are lots of opportunities for amateur growers and horticulturalists to enter carefully tended plants in the Open Horticultural exhibits.

There are a couple of classes for floral designers who belong to Garden Clubs or Horticultural societies other than the Garden Club of Toronto to show off their skills. Details for exhibitors are in the online schedule, available after November 23.
---
Celebrate

Winterizing Tips

The holidays are approaching, and that means winter is almost here! Harrowsmith's Winter issue, out this month, offers plenty of ways to get in the spirit of the season -- from tips on winterizing your garden and creating interest year round by Mark and Ben Cullen, to features on ice fishing, backyard skating rinks, the annual Christmas Bird Count, and stories from Canadian growers and homesteaders, sharing how they do things in their part of town. Plus plenty of delicious recipes for the holidays (like this maple sugar cranberry pulla)! Pick up a copy and start planning your best winter yet.



Get your copy on newsstands November 19th or visit: www.harrowsmithmag.com

Those of us who love the outdoors and enjoy puttering around the yard are always looking for an excuse to do something in the fresh air. If you thought you were done with this year's lawn and garden, we have a question: Have you taken care of the following?

1. Wrapped cedars with two layers of burlap. Cedars nearest a road (and on the east side of it, especially where they are susceptible to westerly winds full of salt spray) are most vulnerable. Wrap them with a layer of burlap...(continue reading)
---
Remembering Those Who Served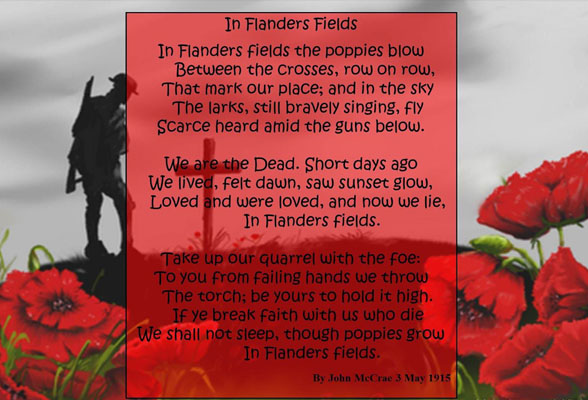 In the spring of 1915, shortly after losing a friend in Ypres, a Canadian doctor, Lieutenant Colonel John McCrae was inspired by the sight of poppies growing in battle-scarred fields to write a now famous poem called ' In Flanders Fields'. After the First World War, the poppy was adopted as a symbol of Remembrance.

The landscape had turned the fields of mud: bleak and barren where little or nothing could grow, but the bright red Flanders poppies, delicate but resilient grew in the thousands, flourishing in the middle of chaos and destruction.

We wear poppies as a symbol of remembrance for all the soldiers who have sacrificed for our freedoms.

Find out more about the story of the poppy
---
Highway Of Heroes Tree Campaign: Honouring Our Military

The Highway of Heroes Tree Campaign - Honouring our military, cooling the environment and beautifying North America's most travelled Highway.

This month we are proud to unveil the monthly donation option on the Highway of Heroes Living Tribute website.

Like most charities, donation income fluctuates throughout the year. Monthly donations offer a steady dependable source of funding that allows HOH to plan more effectively and expand their work.

How it works: Simply head over to hohtribute.ca/online-donations, select monthly donations and the amount you wish to donate. Then each month, that amount will automatically be charged to your credit card. You will receive your receipts monthly making it easier to for accounting at the end of the year. If at any time you wish to stop your donations simply contact HOH and they will take care of it. It's a fast and easy way to make a big impact.

To learn more about the campaign please visit: hohtribute.ca
---
Canada Blooms Thanks Our Volunteers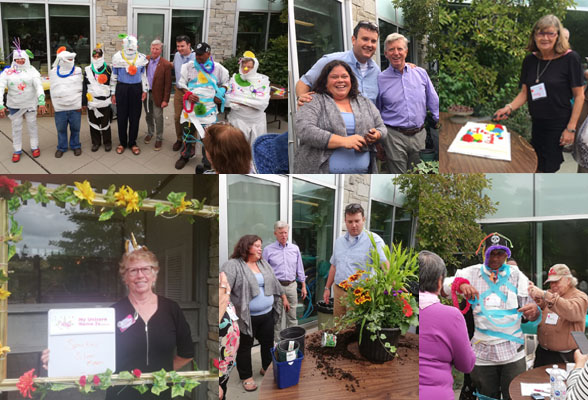 The Canada Blooms Volunteer Appreciation Event took place at The Toronto Botanical Garden in late September. We would like to thank all the volunteers who were able to join us, and those who were unable to come out, foll all the hard work and dedication they have shown to Canada Blooms over the years.

Volunteers helped us welcome our new sponsor Mark's Choice and get ready for 2019 with 'A Family Affair' themed lunch which included door prizes, a container seminar with Mark Cullen, Ben Cullen and Home Smith Gardening's Tanya Smith as well as a 'Dress My Mummy' contest. After lunch, volunteers were invited to take in Zimsculpt, a special display of sculptures from Zimbabwe that were in the gardens at the TBG until the end of September. (continue reading)
---
Vegepod Makes Growing Easy
Picture it, you come home from work and you're thinking about what to eat. Instead of waiting in line at the grocery store, you step out into your backyard or balcony and pick fresh herbs and home-grown vegetables. Veggies and herbs that you not only have grown yourself, but are also free of pesticides because they aren't needed to keep those pesky pests out of your garden.

Well with Vegepod, seen on Shark Tank Australia and recently at the Chelsea Flower Show in England, is the perfect answer for your gardening needs. Vegepod is a self-watering bed that comes in three sizes and features micro-climate and pest controlling canopy, with self-watering reservoirs underneath the soil.

It's easy to set up, simple to fill and requires little ongoing maintenance. Vegepod is the ideal solution for the busy householder who wants a veggie patch but doesn't have the time or effort required to build one. Not only is it easy and effective for the common house holder, its fantastic for all ages and communities ranging from kindergartens, schools, aged care, disabilities and health care services. (find out more)
---
See Father & Daughter Garden
Expert Team at Canada Blooms

Still Time To Enter
Fall Container Picture Contest

13-year-old Emma Biggs and her father, Steven will be speaking on the Canada Blooms stage in March.

They write, speak and garden together. Come join them as they share fun ideas on how to get the whole family gardening. From fun veggies to grow for kids (ever heard of heat-free jalapeno peppers?!) to fun projects (like a giant sunflower house!). Come learn what you can find in the garden to bring together the nature lovers in your family.

We are in the process of updating our speakers list, check back for further details.

Show us your best fall container to win 2 morning garden tour tickets!

Upload a picture of your best fall container to be entered to win.

Containers can be large or small, can be yours, your friends or even the neighbour whose talents everyone envies. They can be traditional or totally out there, as long as they show what you feel best represents fall.
(enter contest)
---
Book Nook

Veggie Garden Remix! is the latest book by best-selling author Niki Jabbour. She invites you to shake up your vegetable garden with an intriguing array of 224 plants from around the world. With her lively "Like this? Then try this!" approach, Niki encourages you to start with what you know and expand your repertaoire to try related plants, many of which are delicacies in other cultures. Niki presents detailed growing information for each plant, along with fun facts and plant history, Be prepared to have your mind expanded and catch Niki's contagious enthusiasm for experimentation and fun in the garden.

Niki's books can be found at Toronto Botanical Garden, Chapters/Indigo, Amazon, and more. Visit Niki's website to find out where you can pick up her books.
---
Revisit the Gardens Of Canada Blooms 2018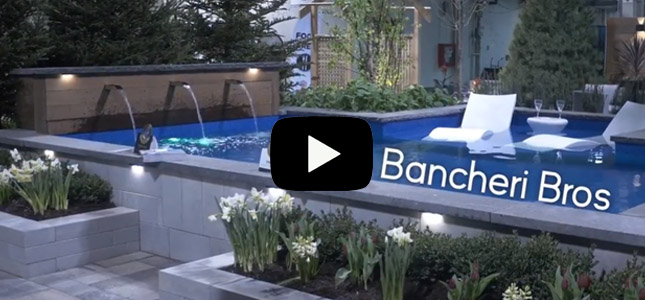 As we are gearing up for Canada Blooms 2019, take a look back at 'Oscars After Party' built by Bancheri Bros.
---
Upcoming Events

Drop by the Toronto Botanical Garden's Holiday Market on November 29th, where you can find over 25 artisans in the marketplace and the Garden Shop will be well-stocked with holiday home décor and seasonal, fresh greens along with a pop-up potting bar and honey tasting station featuring TBG's very own honey. PLUS… Don't miss the release the new gardening book, Escape to Reality by Mark Cullen with Ben Cullen.

Presented in partnership with the Garden Club of Toronto, the TBG;s Holiday Market offers a relaxing shopping experience with FREE admission, FREE parking and complimentary coat check. (discover more)