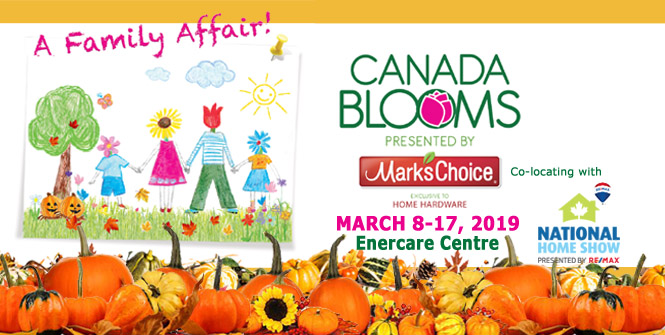 Mark's Choice Named Title Sponsor of Canada Blooms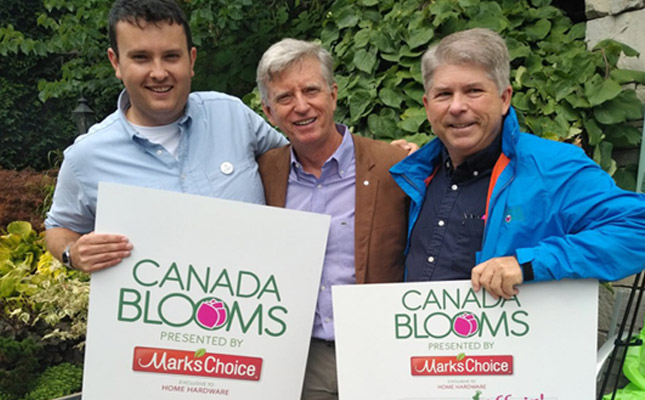 Canadian gardening gurus Mark and Ben Cullen have been involved with Canada Blooms since it was started some 23 years ago; now, they are attaching their brand to the marquee.

Mark and Ben Cullen have reached an agreement to be the title sponsor for the country's largest garden and floral festival and will attach their Mark's Choice brand, available exclusively at Home Hardware, to the Canada Blooms logo.

"We are more than just 'delighted' to become lead sponsors of Canada's greatest garden festival," says Mark. "We are over the moon. Ben shares my passion for the mission of Canada Blooms and the extraordinary contribution that this event makes to horticulture in Canada." (continue reading)
Toronto Flower Show Happenings

What make's Canada Blooms an International event? It is the competitors that come from around the world to enter a design. The 2019 International Class title is "Relatively Speaking".

Ten countries are confirmed; Barbados, Bermuda, Canada, France, Italy, Oman, India, NAFAS Great Britain, South Africa, and the USA. These very talented women spend a lot of time and effort preparing for their visit to Canada Blooms. Some are chosen by their country to come as an award .... (continue reading)
What To Do With Holiday Leftovers

Ben & Mark

The arrival of fall usually means a shift from casual BBQ fare to larger, formal dinners surrounding Thanksgiving. Harrowsmith's 2019 Almanac has all the necessary recipes to see you through the holiday weekend — and longer, for those hosting guests a few extra nights. From velvety celeriac and navy bean soup to sheet pan bubble and squeak with turkey sausage, we have your back! And for the morning? No one will complain if you serve a slice of leftover sweet potato cake with smoky maple frosting with hot coffee.



Get your copy on newsstands or visit: www.harrowsmithmag.com

Mark and Ben Cullen are always happy to hear from gardeners who have jumped on the 'grow your own' band wagon. Many first-time veggie gardeners are contacting them to find out what to do with their abundance of tomatoes, squash, carrots and the like.

"What now?" Time was, you would dig it all up and stuff it in a root cellar. Today of course, we have freezers, refrigerators and some pretty sophisticated methods for preserving fruits and veggies.
(continue reading)
Proven Winner's Plant Picks Of The Month: Daylilies

RAINBOW RHYTHM® 'Tiger Swirl'

This new and exciting variety stands out from the rest of the daylilies with its uniquely shaped petals. Huge, triangular-shaped flowers are light golden yellow with a pronounced raspberry red eye. Its bottom sepals are smooth, often twisting or curling into a "swirling" motion. This is the perfect landscape plant and possibly the most care-free and easiest perennials to grow.





This variety will reach a height of near a meter and is hardy in zones 3-9.





Best in full sun but tolerates part shade, dry to average moisture, deer resistant, attracts butterflies and hummingbirds, good for landscapes.
RAINBOW RHYTHM® 'Going Bananas'

The 'Going Bananas' daylily has large blooms that appear from summer to fall, and these canary yellow flowers open wide even on cloudy days. Beautiful when planted en masse. This is one of the shorter daylilies in our RAINBOW RHYTHM® collection, reaching a height of 19-22" and hardy in zones 3-9.



No Carve Pumpkin Ideas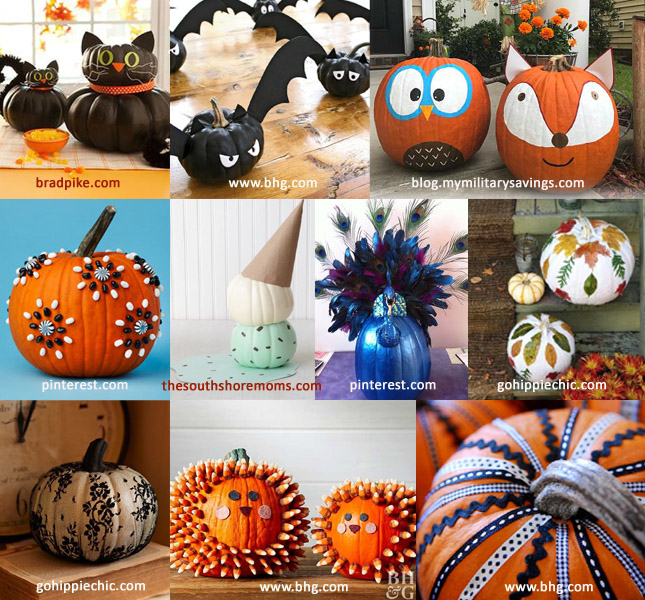 October is a great time to get creative with pumpkins and gourds decorating for Fall and Halloween.

Forget about the knife, instead grab the paint, glue, glitter and bling. Here are a few ideas I found from Pinterest, Better Homes and Gardens, and Go Hippie Chic to get your creative juices flowing. We invite you to share your creations on our Facebook page and we might share them with our followers.
Special Offer From The HomeFest Show

Fall Container Picture Contest

Home is a feeling. Get ready to experience yours in new ways at HomeFest presented by Booking.com!

From interactive culinary workshops to immersive design experiences, HomeFest is a celebration of your home and the way you live in it! Don't miss it Nov. 2-4 at the International Centre in Mississauga!

Buy tickets online by October 19 and save $6 when you use promo code 'BLOOMS'!
Plus! You could win a $500 Visa card in our early bird prize draws on Oct. 19, Oct. 26 and Nov. 1.

Visit www.thehomefest.ca for more information and to buy tickets!

Enter to win tickets to the HomeFest Show.

Show us your best fall container to win 2 morning garden tour tickets!

Upload a picture of your best fall container and you could win two tickets to the best way to see Canada Blooms, away from the crowds by a knowledgeable Master Gardener.

Containers can be large or small, can be yours, your friends or even the neighbour whose talents everyone envies. They can be traditional or totally out there, as long as they show what you feel best represents fall.

Canada Blooms Garden Tours take place Saturday March 9, Wednesday March 13, Thursday March 14, Friday March 15, Saturday March 16 at 8:15 am and Wednesday March 13 at 6:30 pm. (enter contest)
Top 5 Fall Colour Picks

blog.tugo.com suggests that the top destination to see fall foliage in Canada is:

Victoria, BC - especially the Japanese Garden at Butchart Gardens

The Rocky Mountains, AB - The drive from Jasper to Banff is amazing

Bruce Peninsula, ON - explore the 800 km Bruce Trail

The Laurentian Mountains, QC - Quebec is littered with floral that changes in the autumn months

Cabot Trail, NS - Cape Breton Island and Cabot Trail are internationally recognized as one of the most scenic views.

The DiscoverMuskoka.com Fall updates says the expected peak for maples (vibrant red) is Oct 1-12, peak birch and poplar (golden encore) is Oct 12-21.
November Colour

November is not normally a month that is looked forward to. It just is not an exciting month. It is grey and it looks dirty outside. November also gives us hints that winter will soon start. In the flower business November is a month that does show transition. We move from the last remnants of fall to an in between stage of not winter and not fall. Here in Southern Ontario we don't have the glorious golden fall colours nor do we have the clean white of winter. However, there is still colour to be found.
(continue reading)
Highway of Heroes Tree Campaign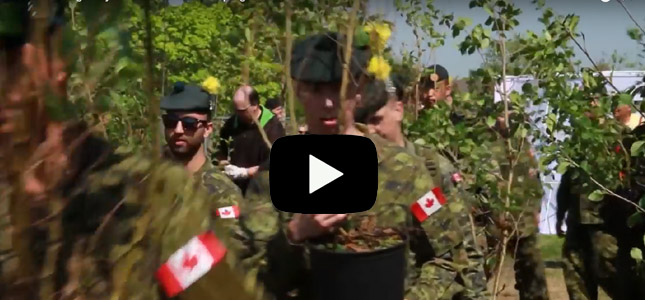 Join us in planting 2 million trees along the 401 Highway of Heroes, a tribute to the men and women who fought for Canada in our wars, and a living memorial to the 117,000 who died for freedom.
You can participate in honouring our military, protecting the environment and beautifying North America's most travelled highway. Visit hohtribute.ca or call 905-875-0021 to get involved.
Upcoming Events

The City of Toronto's Annual Chrysanthemum Shows are on from October 7-November 4, at Allan Gardens Conservatory, and Centennial Park Conservatory's show usually begins around the first weekend in November. These fabulous displays of chrysanthemums are grown in-house at High Park and Centennial Park Greenhouses by the City of Toronto growers.

Admission is free. (discover more)