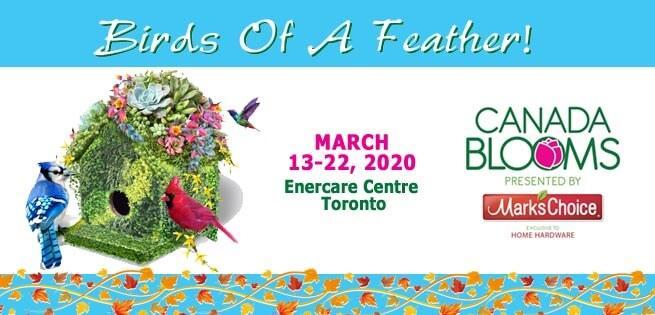 Canada Blooms Named Top 10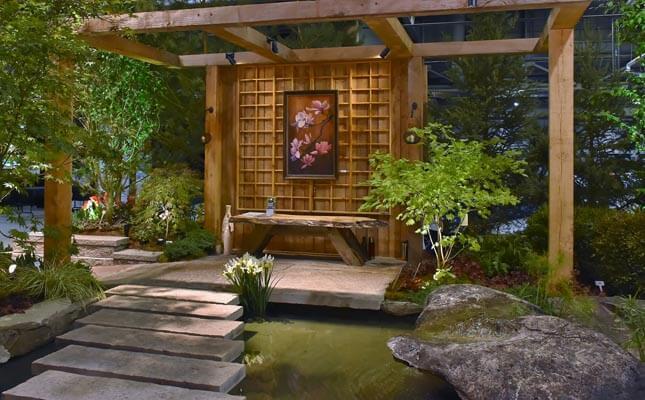 BizBash Magazine has named Canada Blooms and the National Home Show one of the Top 10 Trade Shows and Conventions in Toronto in 2019.

Canada Blooms and the National Home Show together create Canada's largest home and garden event in North America and our 2020 festival will be March 13-22 at the Enercare Centre.

Each year, the co-located event sees over 150,000 visitors who can discover the joys of horticulture and floriculture through large and small space gardens, Canada's largest juried flower show and competition, over 200 presentations, special features, and 750 exhibitors.
---
Toronto Flower Show Happenings

Did you know that each year, 8-10 competitors from all over the world come to Canada Blooms to compete in the Toronto Flower Show?
In 2019, there were competitors from Barbados, Bermuda, France, Great Britain, India, Ireland, Italy, Oman, South Africa and Canada.

Anna Fulton, won gold with a striking modern design. Anna represented the island of Bermuda and is training to become a judge and demonstrator. Anna is a newcomer to international competition and she has made a brilliant start.

Official rules of the competition state that we cannot name the participants prior to entries being submitted, but we should know who will be participating by early January, so stay tuned to see which countries will be competing.
---
Garden Like A Pro

Harrowsmith's 2020 Almanac

Garden experts Mark and Ben Cullen offer their list of things to do to prepare your September Garden.

1. Dig and divide. Perennials that flowered in early to mid summer can be dug up and
divided. Replant the divisions around your
yard in the appropriate places or give them
away if you have run out of space. A short list
of candidates: peonies (mid September is the BEST time to divide mature plants), hostas, monarda, daylilies, rudbeckia and veronica. Be sure that the soil is moist when you dig up the mature perennial.
2. Plant spring flowering bulbs.The boat
has arrived from The Netherlands and we recommend that you check out the selection
at your favourite retailer for the best selection
of the season. (continue reading)

Seasoned gardeners know that the season never ends--even though saying "fall" in the middle of this very late summer is almost like swearing! But Harrowsmith's 2020 Almanac is now on newsstands!

As you enjoy those first sweet ears of corn with a local IPA, read our article on How To grow your own hops.

In the fall gardening section, you'll also find our garlic tutorial. Mark and Ben Cullen are pleased to be the gardening editors to Harrowsmith magazine.

Get your copy of the 2020 Harrowsmith Almanac now at your local newsstand or online.
---
Proven Winners: Fall Containers
By Kerry Meyer, Proven Winners

Maybe the heat or vacations have left your planters looking less than stellar. Maybe you're simply tired of what you have and looking for a change or want to get ride of the pinks and purples you loved in the spring in favour of the more Autumn-like yellows, reds and bronzes. While the basics of design and care don't really change for fall, there are a few things to consider.

Choosing Plants
When choosing plants for fall, their ability to withstand cool temperatures, including frost or even hard frost, is key to keeping your containers looking great for months.

Another trait to consider is the ability of the plant to bloom under shorter day-lengths. Some plants need longer days to bloom. And, no you are NOT limited to mums, ornamental kale and pansies - although they are great plants for fall. When looking at plants in the Proven Winners on-line database, plants that work for Fall are marked as having Fall interest.

Planting
When potting up planters in spring, there are advantages to using fewer plants per container and leaving plenty of room to grow. But, fall has a different set of circumstances. While you are likely planting containers while temperatures are still quite warm, those temps are going to quickly begin cooling off. As temperatures cool, plant growth slows or stops completely. This means that plants potted up in the fall aren't going to show the amazing growth you get from those planted in the spring.

Watering
Cool temperatures and smaller plants also lead to plant using less water. Less water used means you don't have to water nearly as often.

Frost Protection
While choosing frost tolerant plants is necessary, you might also want to add an extra level of protection for your plants when night temps get close to 32 degrees.

(read complete Proven Winners article)
---
Special Offer From The Toronto Fall Home Show

Summer or Fall Container
Picture Contest

It doesn't matter where in Toronto or the
GTA you live. It doesn't matter how big or
how small your home is (or if it has wheels
for that matter).
It doesn't matter if you're style is modern chic
or rustic wonder. The Toronto Fall Home
Show is for people like you!Come discover everything the Fall Home Show has to offer.

Visit FallHomeShow.com for more information and to buy tickets!

Show us a picture of your best summer or fall container to win 2 morning garden tour tickets!

Upload a picture of your best summer or fall container and you could win two tickets to the
best way to see Canada Blooms, away from the crowds by a knowledgeable Master Gardener.

Canada Blooms Garden Tours take place Saturday March 14, Wednesday March 18, Thursday March 19, Friday March 20, and Saturday March 21 at 8:15 am. (enter contest)
---
Top Fall Colour Picks For Ontario

DiscoverMuskoka.com suggests that the best time to see fall colours in Ontario for 2019 is expected to be:
Early Fall Colour Viewing: Sept 24-30
Peak Maple Fall Colour Viewing: Oct 1-12
Peak Golden Encore Fall Colour Viewing: Oct 13-21

If you have time, make a plan to visit to check out the parks and trails of:

Huntsville

Lake of Bays

Bracebridge

Gravenhurst

Muskoka Lakes

Georgian Bay

For the best places to view the colours for each of the above visit DiscoverMuskoka.com
---
Bird Movies Challenge

In keeping with this year's theme "Birds Of A Feather", we invite you to take the Bird Movies Challenge. If you answer all you will be entered into a contest to one of two 4-pack tickets to Canada Blooms 2019.

So come on and take the challenge, even if you don't answer all the questions, you will still be entered to win one of ten pairs of tickets to Canada Blooms.
(take the challenge)
---
Revisit The Gardens Of Canada Blooms 2019
---
Upcoming Events

The City of Toronto's Annual Chrysanthemum Shows starts around the first full week of October at Allan Gardens Conservatory, and Centennial Park Conservatory's show usually begins around the first weekend in November. These fabulous displays of chrysanthemums are grown in-house at High Park and Centennial Park Greenhouses by the City of Toronto growers.

Admission is free. (discover more)