Business owners in the Landscape Ontario community have exclusive access to a great peer mentorship and learning program

Business owners and upper management are faced with hundreds of problems, decisions and issues every single day. Running a business is tough work and you don't have to always try and figure things out on your own.
Your peers in the landscape and horticulture profession can help! Attend one of our events or post a question online via our invitation-only LinkedIn group or private Facebook group and your peers will confidentially and professionally help you to achieve your true potential.
Be the leader you aspire to become. Join LO's Peer to Peer Network today!
Upcoming workshops in 2020:
COVID-19 UPDATE: Organizers and members of the Peer group are still hoping to hold the annual fall summit. It may get pushed back to Oct. or Nov. and may have a reduction in the total number of participants. Stay tuned for more updates.



Peer to Peer Network September Summit
Sept. 24-25, 2020 in Gravenhurst

A one-day workshop on Operational Efficiency, PLUS a one-day workshop on Exit Strategies and Succession Planning
Join us on Lake Muskoka in Gravenhurst, Ont., for our two-day, information-packed feature event on the Peer to Peer Network calendar.
Day one:
Operational Efficiency 2.0. Join in for the hottest tips on efficiencies in managing and training your crews, materials and communication for higher profit and happier teams. Guest speakers will include Frank Bourque, Landscape and Hardscape Business Consultant, and Arden Urbano from Greenius, who will bring action-packed presentations to ramp-up your efficiencies and results.
Day two:
Exit Strategies and Succession Planning. Meet up for an inspiring and information-packed keynote breakfast seminar with Mark Bradley, CEO of LMN. Then enjoy a panel discussion with five industry professionals (including Mark Bradley and Frank Bourque) who have either successfully sold or bought into landscape businesses. Hear their stories and learn the in's and out's of preparing your business for an ownership transition. After lunch, dive-in with a round-robin, open discussion forum where you'll network directly with each of the panellists for targeted advice and strategies to help you to formulate your business retirement goals. This two-day event includes lots of networking time with your peers. Après activities include: optional steamship cruise (tickets extra), and an evening around the firepit with peers.
Tickets sell out fast for this awesome two-day feature event. Space is limited. Sign up soon!
Location:
Marriott Residence Inn at Gravenhurst Wharf
285 Steamship Bay Rd., Gravenhurst
Call 705-687-6600 and ask to
book into the Landscape Ontario room block for a special rate of $189 per night
.
Please note is for your accommodation only. Must register for seminar as well (below).
REGISTER NOW
---
Mutual respect for mutual improvement
We ask members of the group to acknowledge the following:
Our pledge to each other is:
To honour confidentiality
To respect vulnerability
To offer sincere advice
To rise above judgment
To inspire peers with hope
Our commitment to our network is:
To participate regularly in online discussions
To engage in face to face sessions – ensuring success for all
To follow up when we say we will.

Here's what people are saying:
"Thanks Jacki and Tim, it was like you heard where I was, and what I needed"
"Great discussion and tools to help me make it work better!"
"Very comfortable atmosphere and welcome comments."
"Jacki what a task master! Tim put the hammer down"
"Thanks again, looking forward to August ... "
"Peer to Peer is just the right amount of Jackie and Tim 'Talk' and group 'Talk'. It takes a lot to impress me – Call me Sync, it's okay – I just didn't want to join a group where I was 'talked at'."
"Jacki and Tim's leadership of the group is inspiring. Meeting content is informative and timely. They talk, we talk. You won't want to miss a moment of the meeting, snoozing …Just saying!"
---
Conversations are happening online via LinkedIn and a private Facebook group page.
To join our LinkedIn and/or Facebook group:
Simply email
signup.peer2peer@landscapeontario.com
and ask to be added to the online group(s).
The program is an LO member-exclusive benefit, open to business owners and upper-level managers.
Once approved, you can then start sharing with your peers, as well as learning from their experience. Remember, the network is for business owners and upper management.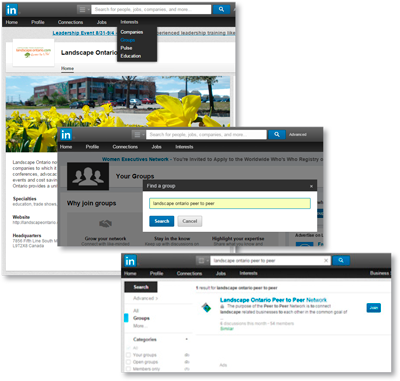 ---