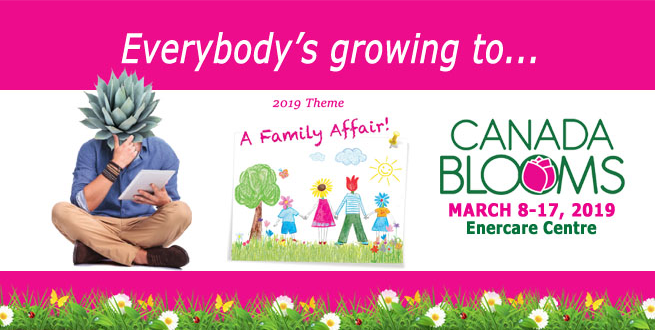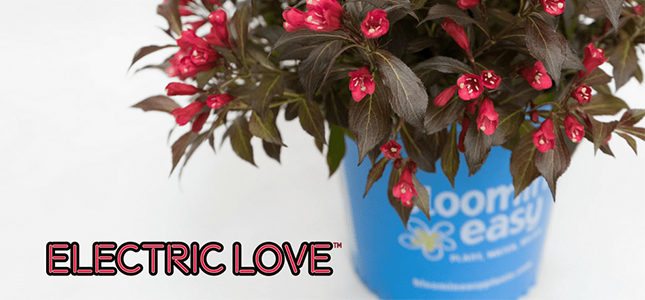 Canada Blooms Announces 2019 Plant Of The Year
Canada Blooms is pleased to announce its 2019 Plant of the Year — Electric Love™ Weigela from the Bloomin' Easy® Date Night™ series from Van Belle Nursery.

The new Date Night™ Electric Love™ Weigela's shockingly vibrant red bell-shaped flowers cover dark foliage for a unique look and rich contrast (it's the first red-flowered, dark leaved weigela on the market). It's a product of the world's leading Weigela breeding program and an excellent performer in the landscape. Electric Love™ is compact and showy, you can easily plant it along the walkway, in mixed garden beds or as the star of a decorative patio pot. And because it's easy to grow, you don't need to know a thing about gardening to succeed season after season! (continue reading)
A Gardener's To-Do List For August

We are on the continental divide of the gardening season. On your right is the last four months that you invested and the flowers and fruit that your garden has produced to date. On your left is another four months (or so, depending on where you live). This is when apples ripen and tomatoes are harvested. To many of us, the best is yet to come.

Here is what you need to know: 1. Divide German iris in August. This is the best time of.... (continue reading)
2019 Fall Almanac Is Here

Canada Blooms Names Top 100

Not to chase summer away, but, Harrowsmith's just released 2019 Fall Almanac will give you a credible excuse to drink more coffee and swing in the hammock a little longer. There are some great distractions in this edition: the history of the Milk calendar, the story behind the iconic Hudson's Bay Company blanket, goat tales from Caberneigh Farm and tempting root veg recipes. Learn how to stack wood Scandi-style, grow apricots in a cold climate and explore the best urban star parks in Canada — and you can do it all while baking that sweet potato cake with smoky maple frosting on page 80.

Get your copy on newsstands or visit: www.harrowsmithmag.com

BizBash Magazine has named Canada Blooms and the National Home Show one of the Top 100 Events in Toronto in 2018, and named #6 for Trade Shows & Conventions. Canada Blooms and the National Home Show together create Canada's largest home and garden event in North America and our 2019 festival will be March 8-17 at the Enercare Centre.

In 2018, the co-located event saw over 165,000 visitors who discovered the joys of horticulture and floriculture through gardens, floral designs, Canada's largest juried flower show and competition, over 100 presentations, special features, as well as 750 exhibitors.
What's New With Ontario Flower Growers

We are in the middle of the "dog days of summer." This means that there is an abundance of Ontario cut flowers available to you. Two of the staples of summer cut flowers in Ontario are sunflowers and gladiolus. Gladioli are such a favourite as they are nostalgic and come in a rainbow of colours. Sunflower colours have also expanded from the traditional yellow, red, red/yellow bicoloured, mauve, and the tinted red. A product newcomer as a large volume producer to the Ontario market is Dahlias. In the last... (continue reading)
Tips For A Great Gladioli Bouquet

It's best to keep bouquets out of excessive heat.

Cut flowers should not be placed near fresh fruit for long periods of time, gases can shorten the life of cut flowers.

Be creative when selecting a container for cut flowers, put away the traditional vase and look for a different container that can hold water.

Small flowers look best in short vases and taller stems require tall, heavier vases.

(find out more about Gladiolus care from pickOntario)
Enter To Win Tickets
Take the Challenge

Enter to win a 4 pack of Ticket to the Toronto Fall Home Show.

Whether you are looking to restructure, restyle or reorganize, you're bound to find everything you need this fall at the Toronto Fall Home Show, September 28-30 at the Enercare Centre.

There are over 300 vendors including designers, renovators, home decor, appliances, storage solutions, hot tubs and more to shape your space. (enter contest)

In honour of our 2019 theme: 'A Family Affair' we have a challenge reminiscent of those family road trips we love so well -- the Bumper Stumpers Challenge. Can you guess the name or phrase associated with our faux vanity plates.

If you get them all correct, you will be entered into a draw for 4 tickets to the Royal Ontario Museum. If you are not quite sure of all the answers, take the challenge anyway, you just might win tickets to Canada Blooms 2019. (take the challenge)
Plant Profile: Bobo® Hydrangea
The Bobo® dwarf panicle hydrangea from Proven Winners has been turning heads since it was first discovered in trial gardens in Belgium years ago! This variety is exceptionally floriferous with a compact frame that is smothered with large, lacy white coned shaped blooms every summer. Held upright on strong stems, enjoy these large flowers as they continue to grow and lengthen as they bloom. The flowers age to a lovely soft pink and will be a nice addition to a vase on your table indoors too. (continue reading)
Special Offer From The Fall Home Show

Renovate, organize, and design your space, with help form the Toronto Fall Home Show. Join us for small space living solutions and explore the two shipping containers Contained Living is transforming into a tiny house. Plus check out features like a closet-swapping service, energy-saving tips from Enbridge Gas Distribution, the Home Hardware DIY Centre, the Upcycle Challenge and free consultations with designers and renovators! For additional details and to buy tickets visit: www.fallhomeshow.com.

Save $4 on regular general admission when you buy tickets online using promo code 'BLOOMS'.
A Look Back At Canada Blooms 2018
Book Nook

When you have a hit or miss in your garden where are you going to celebrate it? In the Three Year Garden Gratitude Journal: Part Diary, Part Personal Growing Guide by Donna Balzer and Chelsie Anderson (2018). This ia an entertaining read from two expert gardeners. Author Niki Jabbour says "It's a beautiful, practical and inspiring book."

Outdoor Lifestyle Expert Carson Arthur ... (read on)
Upcoming Events

Toronto Botanical Garden's outdoor African art exhibition "ZimSculpt" showcases hundreds of sculptures by many of Zimbabwe's most renowned contemporary artists.
Visit: torontobotanicalgarden.ca for more details Exhibition runs August 3 through Sept 30, 777 Lawrence Ave E., Toronto.

Don't miss this year's annual COOS Orchid Show and Sale!
You have seen plenty of Phalaenopsis orchids for sale in the grocery stores but did you know that there are thousands of other kinds of orchids? They come in size from something a mosquito would love to the size of a small tree. Come to the orchid show and check them out. Visit: COOS website for details.

Saturday, September 22: 11am to 5pm, Sunday September 23: 10am to 4pm, Cambridge Hespeler Arena, 640 Ellis Rd, Cambridge